Ever just ask God what he thinks? Yesterday I heard him say…
Let me do my work. Find your security in me. To moan over what you do not have or what you cannot be is POINTLESS. You cannot be other than what you are. 
I created you for a divine purpose.
I created and intended you for your own purpose in my design. I made you what you are and what you will be. You have no right to be upset – I created you for a divine purpose. 
Stop looking at everyone else and look at me. Submit to me, be my clay.
(Jeremiah 18:6b)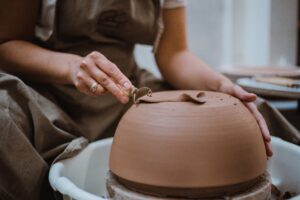 Let me make something beautiful with you and ignore the rest. It's not for you to worry about.
Eyes up.
Head up.
I am your focus.
Keep surrendering those thoughts and put your mind and eyes on a higher place.
Drop the weight of that sin and… WALK FREE.
Scripture Ref
– Psalm 16:8 "I keep my eyes always on the Lord. With him at my right hand, I will not be shaken."
– Jeremiah 18:6b "Like clay in the hand of the potter, so are you in my hand, Israel."